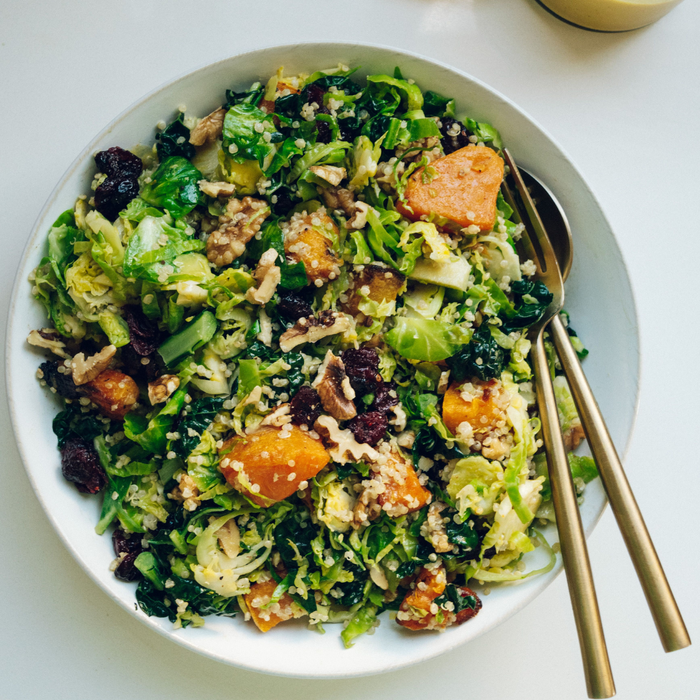 WARM SALAD WITH GOLDEN TURMERIC DRESSING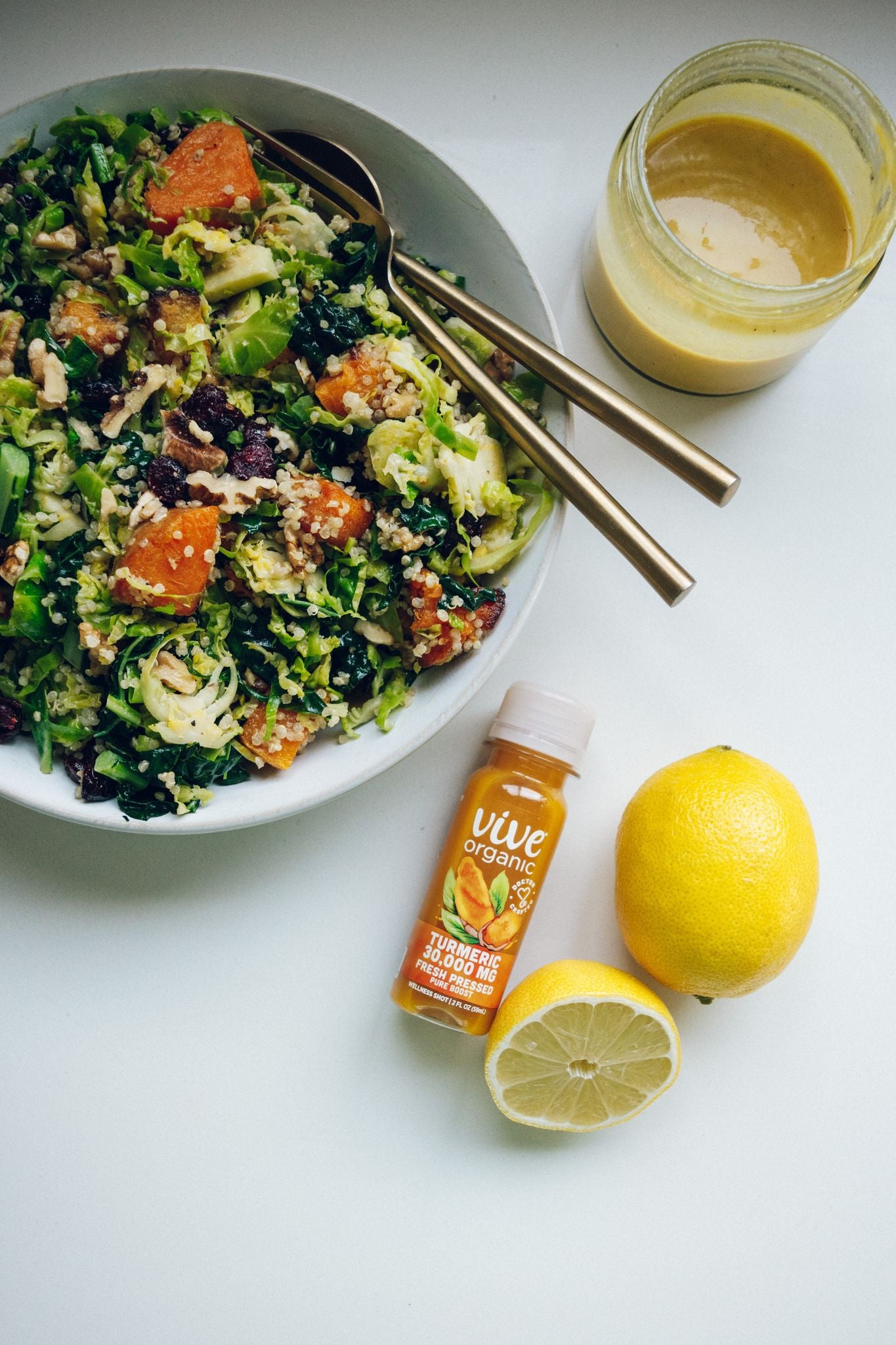 Servings: 4-5
Ingredients
1 Vive Organic Pure Boost Turmeric shot
⅓ cup olive oil
3 tbsp. tahini
1 tbsp. honey or maple syrup
1 tbsp. apple cider vinegar
1 tbsp. lemon juice
½ tbsp. salt
¼ tbsp. garlic powder
4 cups shaved brussels sprouts
2 cups shredded kale, stems removed
2 cups cubed butternut squash
1 cup cooked quinoa
½ cup dried cranberries
½ cup chopped walnuts
Directions
For the dressing: add the Pure Boost Turmeric shot, olive oil, tahini, honey or maple syrup, apple cider vinegar, lemon juice, salt, and garlic powder to a jar. Seal the jar with a lid and shake until all ingredients are well combined. Set aside.
Preheat the oven to 400 degrees F. Line a baking sheet with parchment paper. Add the cubed butternut squash to the sheet, drizzle with olive oil and sprinkle with a pinch of salt and pepper. Toss until evenly coated. Bake for about 25 minutes, tossing halfway through, or until soft.
In a large skillet over medium heat, warm 1 teaspoon of olive oil. Add the shaved brussels sprouts and sauté for 5-6 minutes, stirring often. Add the shredded kale and continue to sautè for another two or three minutes, until the kale is wilted.
Transfer the cooked greens to a large bowl. Add in the cooked squash, dried cranberries, quinoa, and walnuts. Drizzle the salad with a couple of tablespoons of the golden turmeric dressing and toss to combine.
Serve the remaining dressing on the side. Enjoy!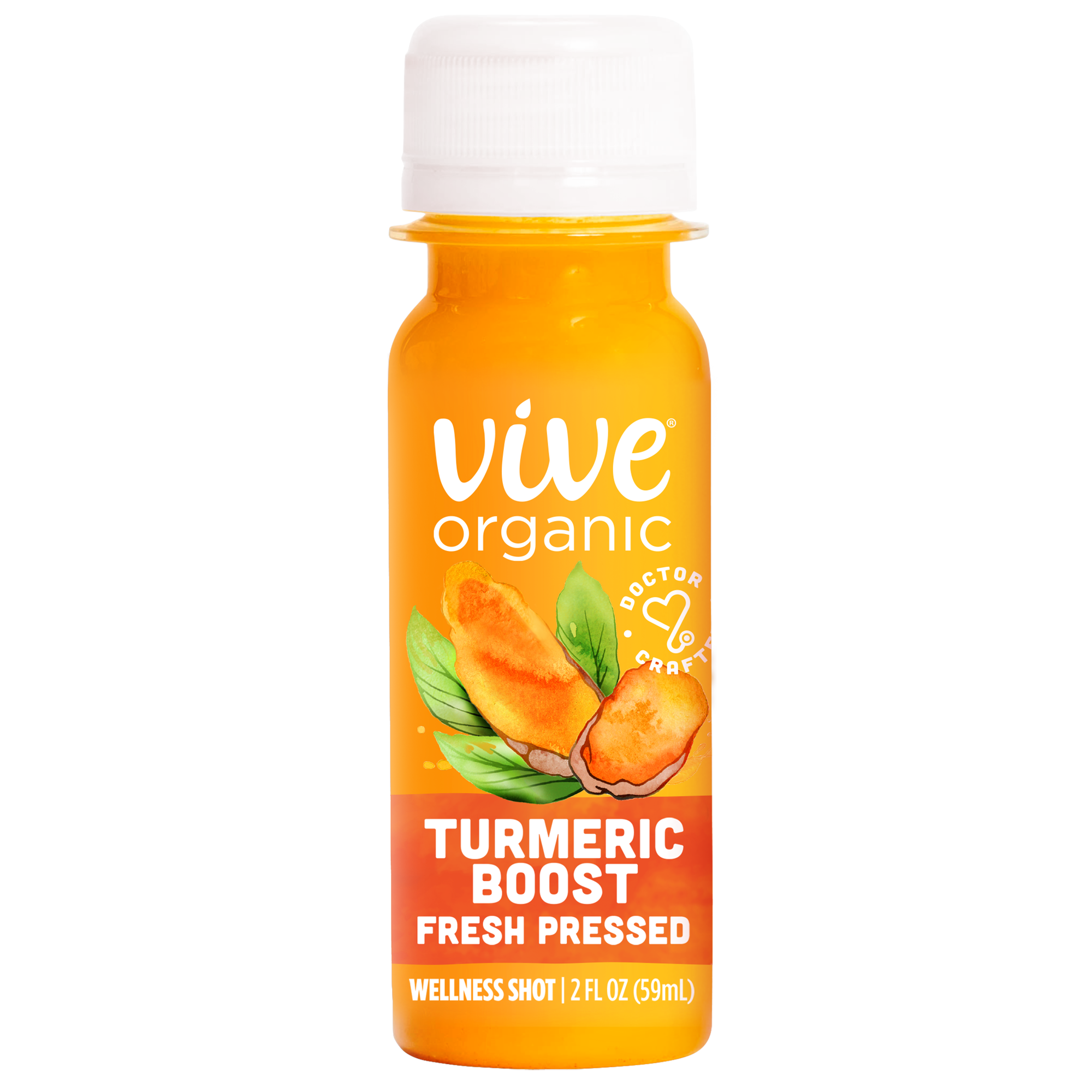 PURE BOOST TURMERIC
12 pack